Knowledge Base Help Center
How do I resolve a Duo Access Gateway sign-in error while attempting to add a Google account on my Android device?
While attempting to add a 
Duo-protected Google account
 on an Android device, the user might see an error that says "Couldn't sign in. There was an error connecting to dag.<company>.com."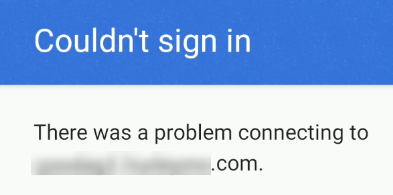 This is most likely related to a break in the SSL certificate chain. To resolve this issue, bundle the intermediate, root, and leaf (end-entity) certificates into a single SSL certificate, and import the updated certificate to the hosted Duo Access Gateway (DAG) server.